Wedding Information
We understand your wedding day is one of the most important and special days of your life. Flowers play an integral role, complementing every part of that day. But more often than not, flowers are an aspect that you know very little about. This is where we, at Flowers by Nattrass come in.
At Flowers by Nattrass, our floral designs for weddings and civil partnerships are bespoke and individual. We are committed to getting everything, especially those tiny details, perfect for you.
We are an established family run company, in the Darlington area. Sally is our creative director and head wedding florist, having taken over the business from her parents twenty years ago. Since then she has been dedicated to giving a personal service for wedding flowers, creating stylish, contemporary and unforgettable designs.
Along with a professional team of florists, Flowers by Nattrass provides a dependable, proven service together with beautiful, modern design ideas – a combination that has earned us credit as one of the leading florists in the North East. We have an extensive portfolio and have decorated some of the most prestigious venues in the Durham and Teesside areas. We have also created designs for venues further afield – nothing is ever too much hassle.
All aspects of your wedding are important, and we have the skills to fully decorate your venue and/or church, as well as bridal and bridesmaid's bouquets, hair flowers, cake flowers, button-holes, corsages, thank-you bouquets, the list goes on. Our shop at 53 Duke Street is where our wedding floristry is designed and constructed and this is where we take wedding orders. There, you will be able to speak to the florists that will be designing your wedding flowers, see our full range of designs and even watch the finished products being made.
Go to our website at www.flowersbynattrass.com and follow us on Facebook and Instagram for more inspiration!
It is always difficult to form price lists for our wedding floristry because of variations according to style, theme, type of flowers used and seasonal availability. We appreciate how important budgets are and we are always happy to suggest alternatives to ensure you keep to yours. Our advice is to come in and talk to us about your wedding so we can send you an accurate quote. To arrange a no obligation consultation call 01325 467154.
Please be aware that prices in the guide may change due to the Brexit process. Prices depend on the flowers, seasonality, which we can predict, however we cannot predict the effects of brexit on the imported flower market. So post Brexit we can give you a more accurate guide. Hopefully we'll get a good deal and these figures will not change! This has also been compounded by the Covid-19 pandemic with growers worldwide suffering from the effects of being unable to sell their flowers and consequently supply being effected. This may effect availability of some varieties of flowers but we will work with all our brides to find alternatives should this be the case. We are living in a very changed world which has compounded on all walks of life - floristry being no exception!
Here are a few prices to guide you:
Bridal Bouquets (depending on style, size, type of flowers & seasonal availability) from £70 to £225
Handtied posy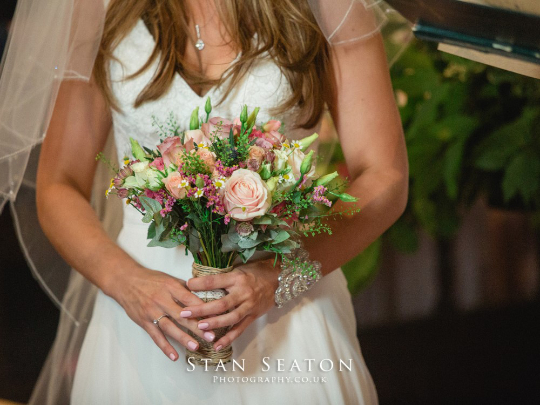 £120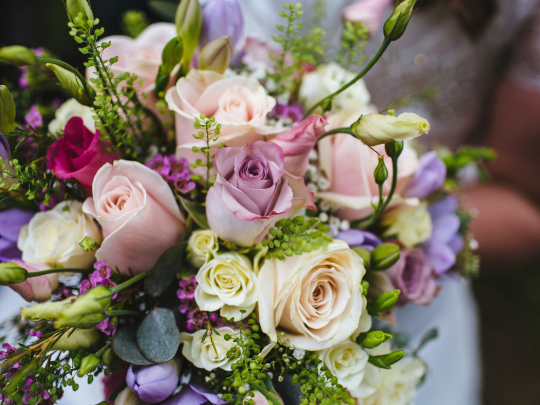 £100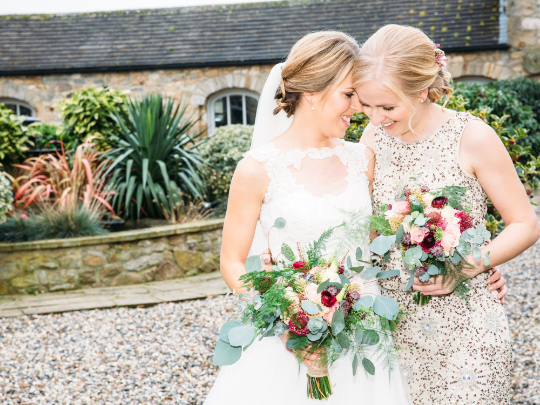 £110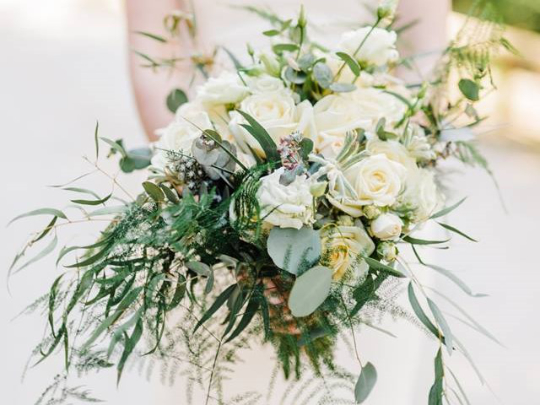 £120
Shower bouquet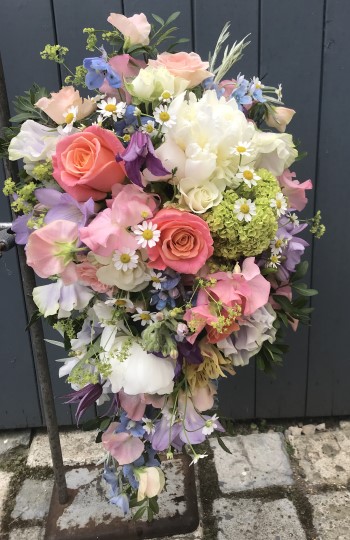 £130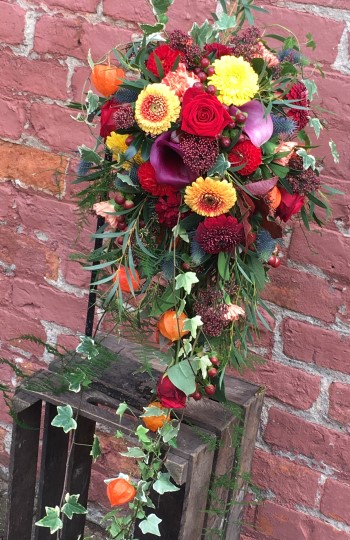 £140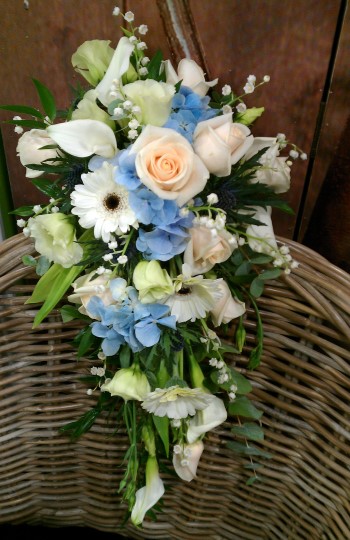 £150
Bridesmaid's Bouquets (depending on the age of the bridesmaid, style, size, type of flowers & seasonal availability) from £20 to £90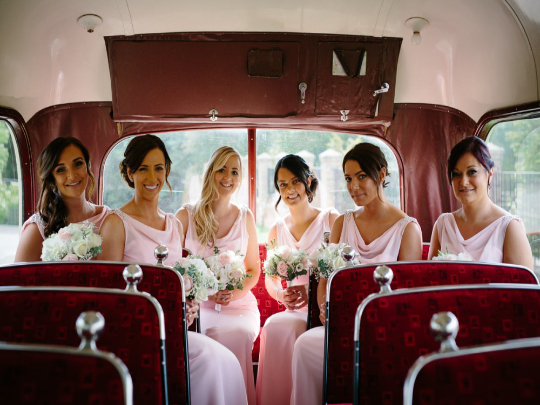 £75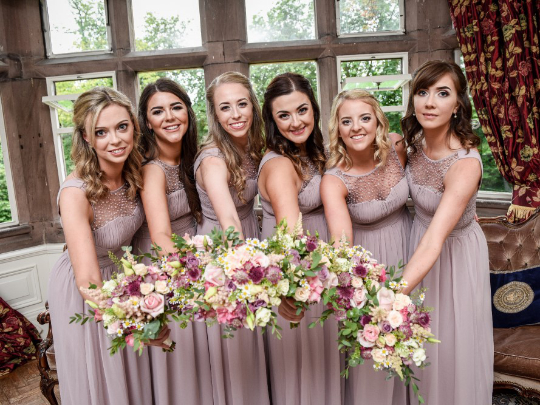 £75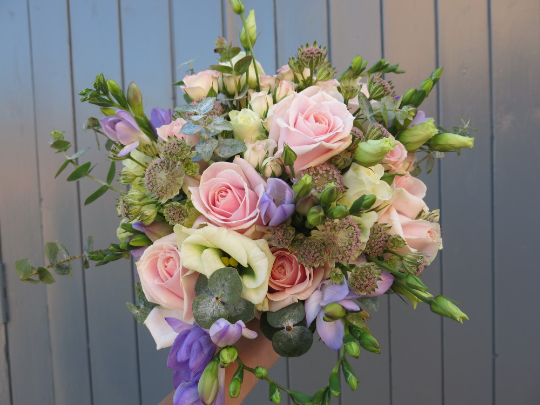 £65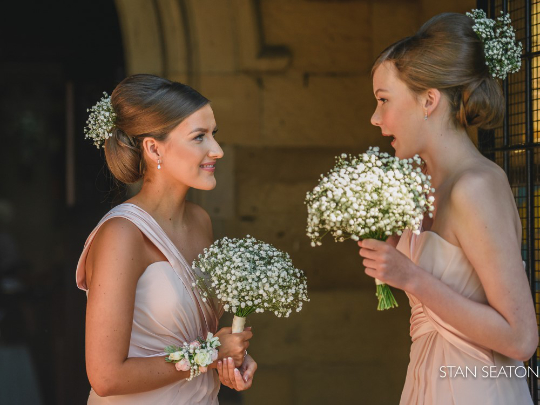 £50
Fresh flower hairpieces – from £5 each
Single flowers on short wires from £2 each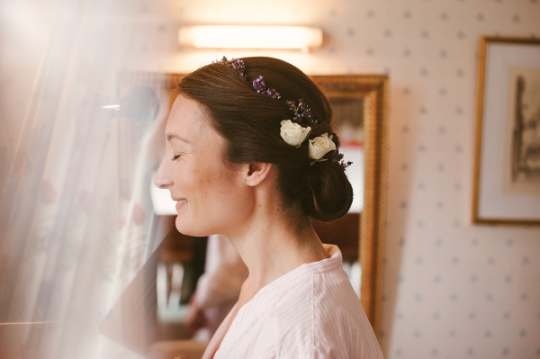 £25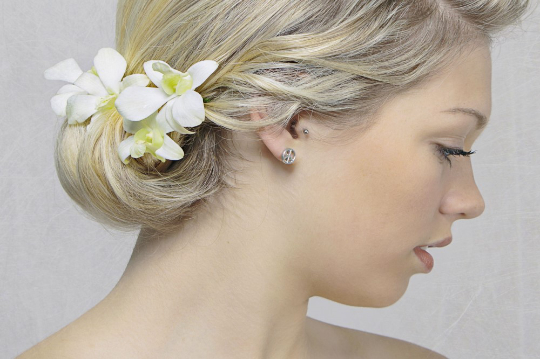 £20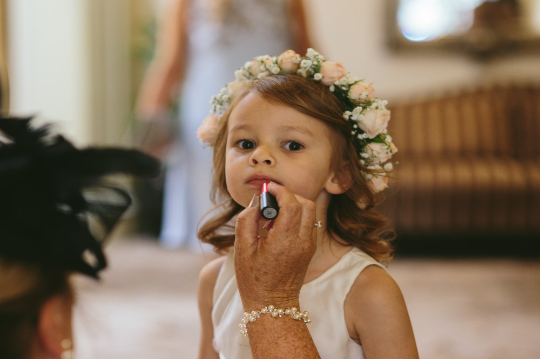 £45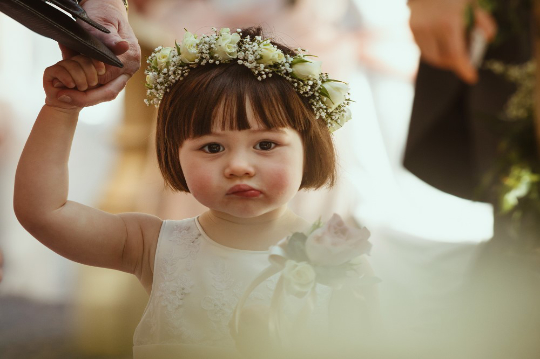 £45
Gentlemen's buttonholes from £5 to £15
£9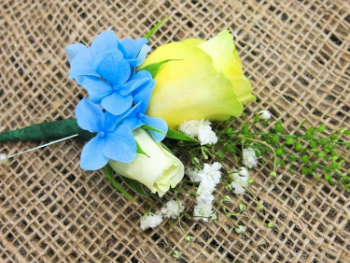 £10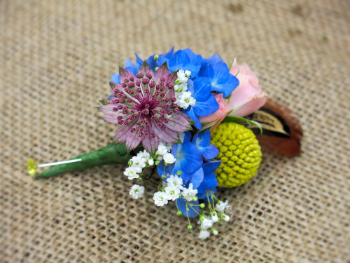 £12
Ladies buttonholes from £5 to £35
Small corsage of freesia & foliages approx. cost £16
Wrist corsage on a pearl band using spray roses approx. cost £20
Handbag corsages from £20
£20
£30 Handbag & £15 Corsage
Ceremony flowers
Large pedestal designs from £80 to £250
Pew ends from £10 each
Church Arch from £200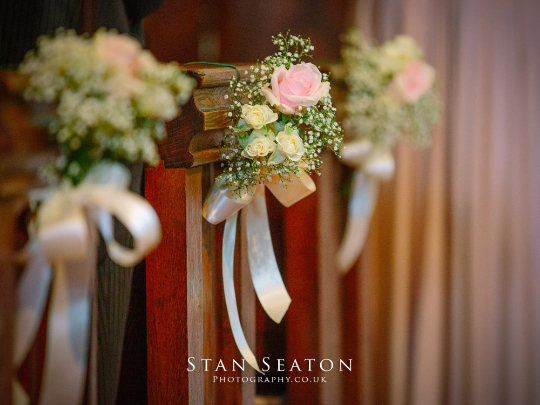 £20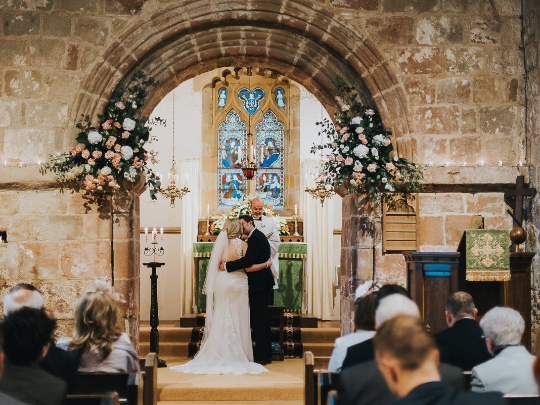 £120 each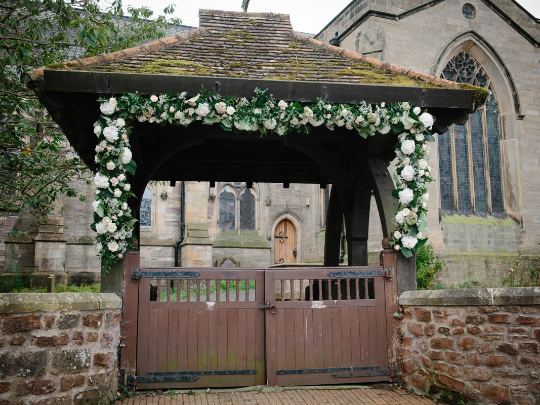 £500
£70 per bay tree & £250 garland
Reception flowers
Top table designs from £50 to £500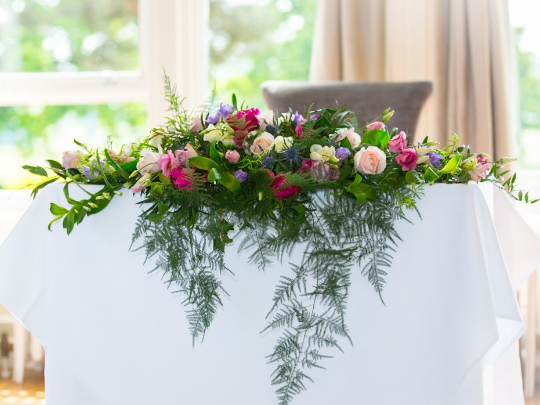 £100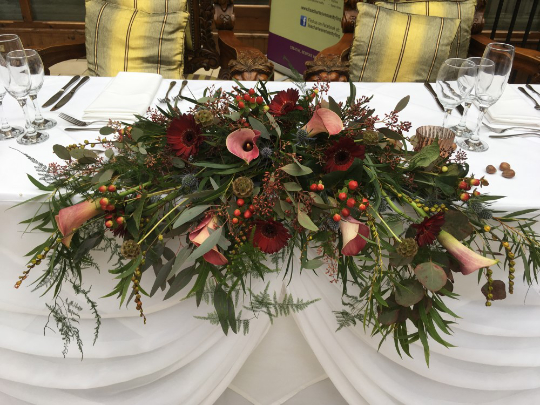 £85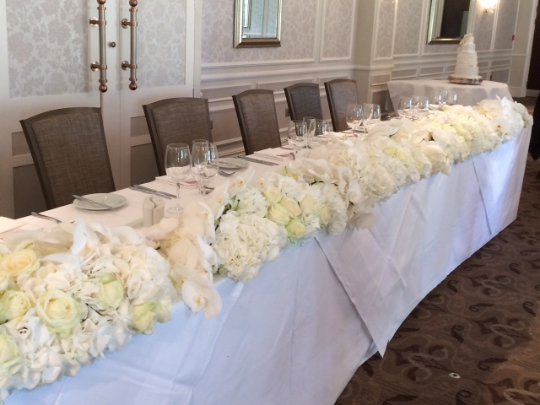 From £60 per metre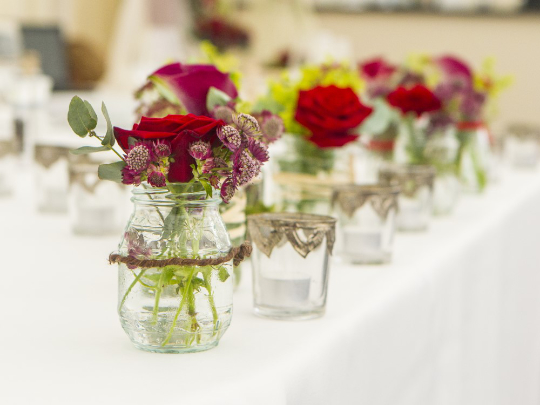 £6 Per Vase
Guest table designs from £20 to £250. For example: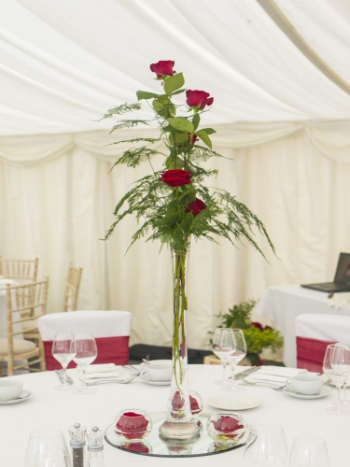 £40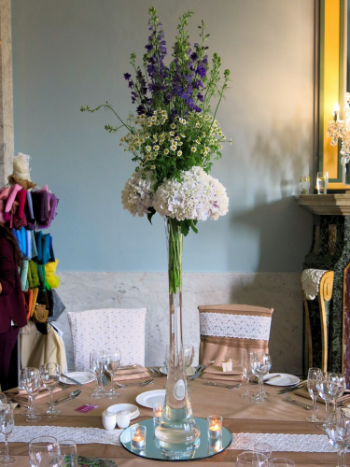 £60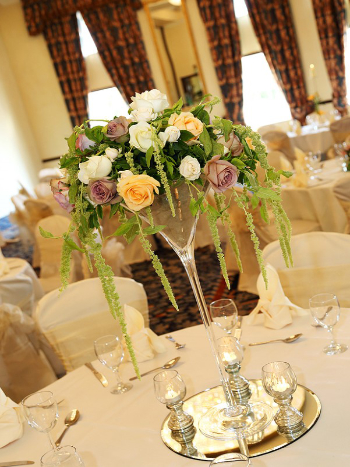 £85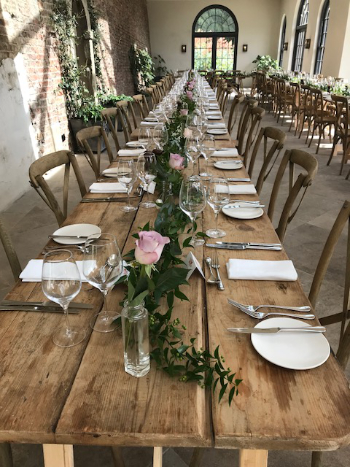 from £20 per metre
(includes vase hire and roses)
£70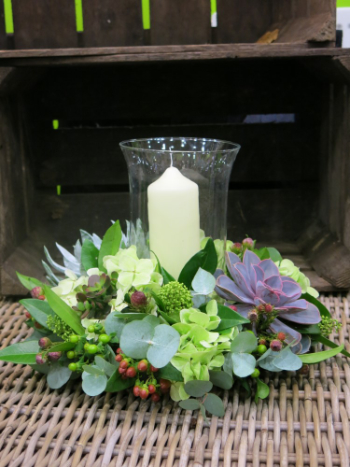 £75
Cake flowers from £16
£45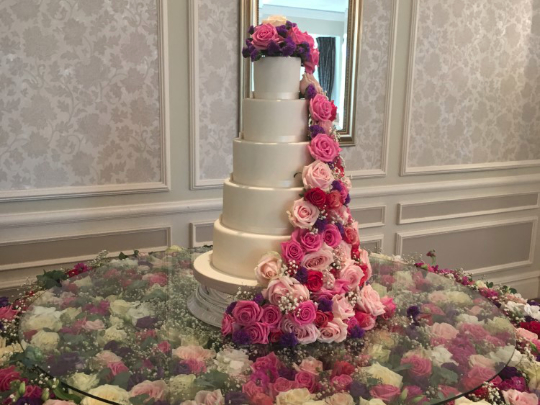 Price on application
Thank-you bouquets and baskets of fresh flowers from £30 to £75
Seasonal handtied bouquet, aqua packed and gift wrapped - approx. cost £40
Venue Flowers
Fireplace dressed with flowers from £50 - £300
Staircase garlanded from £100 - £500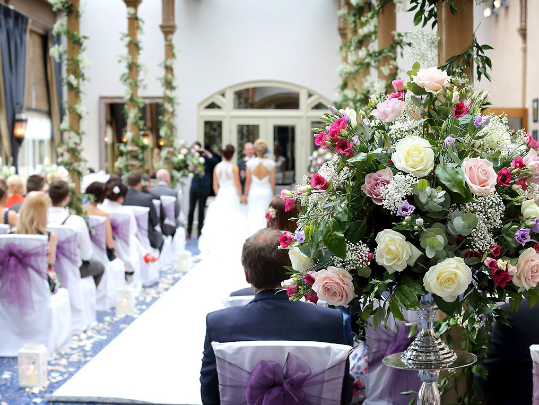 Pedestal £200 Pillar Garland £50 each
£250
On peak seasonal weekends we can become booked up very quickly, so your wedding date should be booked with us as soon as possible. A £100 (non-refundable) booking fee secures Flowers by Nattrass to design your wedding flowers. Following this, at any time between 1 year and 6 months before the wedding date you should contact us to arrange an appointment to discuss your exact requirements with one of our wedding florists. Please be aware that at weekends we need to devote most of our time and attention to our "Bride of the day", therefore we would ask you to try to book appointments Monday to Thursday wherever possible.
The final balance on your wedding flowers becomes due four weeks before the wedding date.
We look forward to working with you to make your dream day become a reality!
Go to our website to see more of our work at www.flowersbynattrass.com
Follow us on Facebook, Pinterest and find us on Instagram @flowers_by_nattrass for more inspiration!
Thanks to Stan Seaton Photography and Camera A for their fabulous pictures of our work.