Autumnal Wedding Inspiration
Matching your wedding or event to the season is one of the best things you can do. What could be better than mixed autumnal bouquets in October and November? Autumn is perfect for rich and warm colours and textures, and natural materials such as hessian, cones, conkers and gourds.
There are a number of ways in which you can achieve an autumnal look. Read on to see how!
1. Early Autumn
Colour Scheme: Greens and silvers with a touch of deep berry red.
Flowers and foliage: Green and red berries, mixed succulents, silver and green foliages
This theme is great if you want to go with a natural green colour scheme, with a hint of autumn.


2. Classic Autumn
Colour Scheme: Deep reds, rich oranges, touches of yellow, green and brown
Flowers and foliage: Velvety red roses, autumnal foliages such as oak, seed pods, berries, orange germini, small yellow pods
What could be more autumnal than this? Beautiful colours and textures using natural autumnal materials, and fun additions such as seed pods and oak leaves.


3. Berry Autumn
Colour Scheme: Plum, raspberry, peach and green
Flowers and foliage: Plum calla lilies, deep red berries, raspberry roses with peach and green highlights using germini, carnations and eucalyptus
This autumnal colour palette is warm and luxurious, and looks great with raspberry and plum bridesmaid dresses.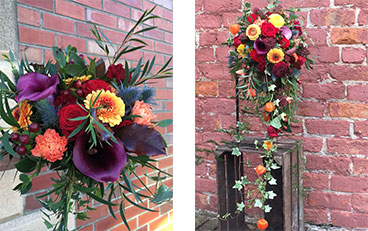 ---
Autumn is also a great time of year to play around with rosehips, twisted willow and ivy.
For centrepieces, you could go with small vintage vases, or tall autumnal trees. We hire out a range of vases, stumps and stands that would go perfectly with an autumnal wedding.
Autumnal buttonholes look great using a cluster of flowers instead of a single bloom.

Contact us to book a wedding consultation at our shop in Duke Street, Darlington.