Weddings are back!
Wedding flowers are back! After so long without our weddings I had almost forgotten the huge amount of work involved to take an idea for flowers right through to the big day. Here's an insight into what we do to ensure your wedding flowers are spectacular….
It starts with the emails, initial ideas and estimated costs – an average of 15-20 emails per wedding from start to finish.
Then we have an initial consultation to go into the details about colours, types of flowers, overall look, budget, types of designs and much more.
After this I can work out what is needed in terms of flowers, foliages, mechanics, vases, sundries items, timescale and labour required, so an accurate quotation can be sent.
There will be further telephone conversations, emails and meetings until both the Bride and Groom are happy with their choices and we are happy that we know exactly what they want.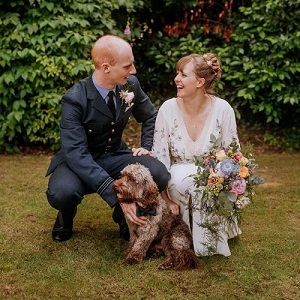 About a month before the wedding buying lists need to be written, some flowers may need to be bought before others if we need to get them open, others need to be bought as near as possible to the day if they are very delicate.
Logistics need to be considered. How many delivery addresses are there? What times do we need to have the flowers there? Are there other deliveries to consider on the same day? Can we get all the flowers in one van?
2 weeks before the wedding final invoices are sent out.
Flowers are delivered between 1 week and 2 days before the wedding depending on what we need. Everything is checked, re cut, stored in the cooler or left out to open. We pray that everything arrives in good condition – we deal with fresh produce and even though our suppliers are top notch and tried and tested there can still be unexpected glitches!
A couple of days before, the vases are polished, boxes covered for the bouquets, accessories are picked out and we double check we have all the ribbons, wires, holders etc. that we need.
The day before, the fun part starts, we make all the bouquets, buttonholes, table centres, ceremony flowers, thank-you bouquets and all are stored in our cool store overnight.
On the day we often have a very early start. There may be a church arch to construct – anything outside or very large will have to be made on the day. Bouquets are checked and their handles finished.
Everything is packed in the vans and carefully transported to the venue, church or brides home – it's a very special skill driving a van full of delicate designs made with fresh flowers!
Once we are at our destination, everything is checked again, put into position and filled with water.
Only then do we sit back, admire our hard work, take a few pics and breathe a huge sigh of relief!
Oh and then the next day we may have to return to collect any hired items, clean them and store them safely away until the next time.
Book a free consultation here or call us on 01325 467154