Reasons why flowers make perfect gifts
At first glance, the custom of gifting flowers – something which sits in a vase then wilts and finds its way to a bin or compost heap – may appear odd. Yet despite this apparent shortcoming, us humans love to exchange flowers and we've been doing it for some 4000 years!
Yes, for as long as that! There is evidence that ancient civilisations in Egypt, Greece and China not only loved arranging flowers and not only used them for decorative purposes but also attached symbolic meaning to them as gifts to lovers and Gods.
Communicate your emotions
Not many gifts are suitable for all occasions, but flowers really do fit the bill for everything – from births to funerals, from "I love you" to "I'm sorry". They help us communicate our emotions through not only the act of giving but also the specific type of flower we select. The assignment of meaning to flowers was especially popular during the Victorian era and this language of flowers (which has been much documented), or "floriography" is still sometimes used today; just think of Valentine's Day and the symbolic use of red roses.
Mood boosters
Numerous studies about the effect that flowers have on our mood and wellbeing show how beneficial they are. The fact that they improve our cognitive performance too is just the icing on the cake! If you're working from home, want to brighten your office or simply want to lift the mood in your house then you know what to do! Don't let flowers just be a gift you buy for others anymore; make them part of your selfcare routine too.
Check our Gift Flowers and if you have a special request, contact us or give us a call on 01325 467154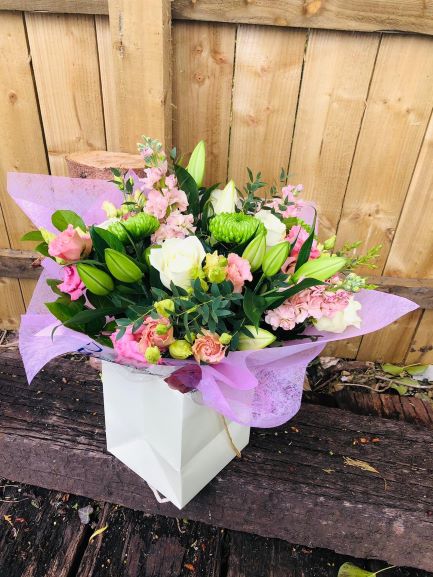 For every budget and taste
One of the great things about flowers is that they are affordable no matter what your budget is. From a simple bunch of tulips or freesia to the most luxurious, stunning gift bouquet, your local, professional florist will always listen to your needs and budget before suggesting something to fit the bill. Have a favourite flower or specific colour theme in mind? Tell your florist what it is and they will do their best to source them or find something similar if they're not in season.
Make it extra special
Most florists offer add-ons – those extra special touches – to make your gift that bit more luxurious. Perhaps you'll select fragrant flowers delivered in a vase so there is no work for the receiver; maybe it'll be the addition of a bottle of bubbly to celebrate a special moment in life. Us florists are pretty good at adapting to special requests too so never be afraid to ask us for something specific.
Transform a space
Match your décor and home style via the flowers you choose. Long gone are the days when a vase of carnations or cheap petrol station roses were all that were on offer. The advent of the internet and global shipping means we can browse, and choose from, a vast array of flowers from all around the world.
Flowers are the perfect way to compliment new household designs and it's really easy to choose flowers to match different personalities depending on the type of preference and styles that you're trying to achieve.