Event Flowers by Flowers By Nattrass - All you need to know.
Over the past 30 years, we have themed many events from the Mayor's Ball, charity events, festive parties, summer balls and weddings which have included many different themes including seaside, musical theatre, Willy Wonka and masquerade balls, circus, medieval and we have even installed a large steam engine covered in flowers to celebrate with Darlington Council.
Theming dinners & events are our specialities. We work closely with you during the design stages to ensure every aspect of your theme is thought out and can be transferred to reality. Once the designs have been verified, the rest you leave to us – you look after your business while we look after your event.
Nothing is too much and we will work with you to create the magic you are looking for!
Here are a few examples of events we have created at the wonderful Rockliffe Hall Hotel showing how one room can be transformed into 4 different worlds.
Fairy-tale Ball
We love the wow factor Rockliffe Hall has so we were excited to create the theming for their Fairy-tale ball for their annual festive event. We work closely with the hotel on a regular basis and we love bringing the event team's vision to life in the Rockliffe Suite and surrounding grounds.
Guests entered the Rockliffe Suite through a Cinderella-inspired carriage we created complete with fairy-lights creating a magic start to the event.
Woodland themed garlands were placed on the entry staircase and around the entrance to the Rockliffe Suite setting the scene.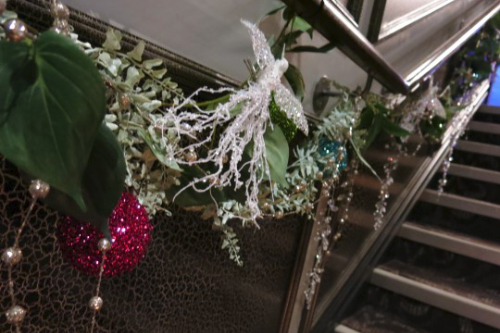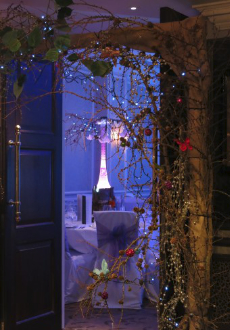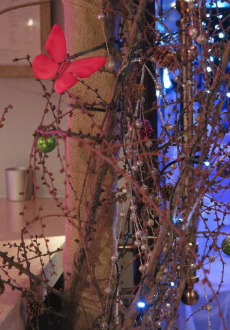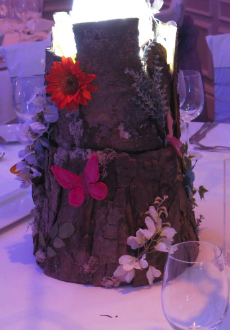 The table centres were created using tree stumps covered in woodland details. Each vase was filled with gel beads and stood on a lightbox, we used lilies and fairy lights attached to horizontal sitting willow in each vase creating that fairy-tale magic for all of Rockliffe's Guests.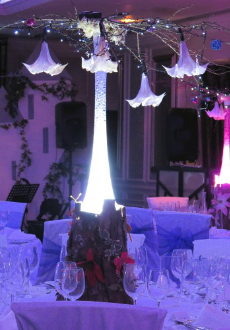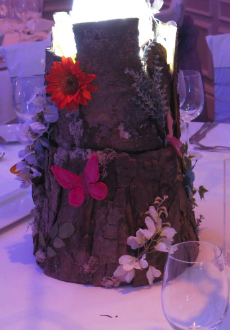 Winter Wonderland
The magic of this event started at the doorway! Guests entered the wonderful world of Narnia through the wardrobe.

Rockliffe provided lovely icy lighting throughout the Rockliffe suite and we designed the centres that transformed their grand reception room into a beautiful Winter Wonderland.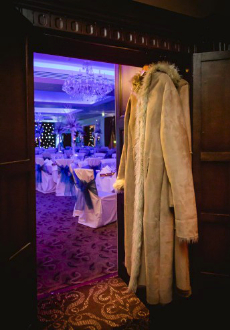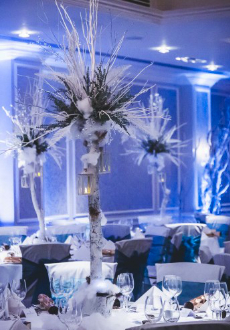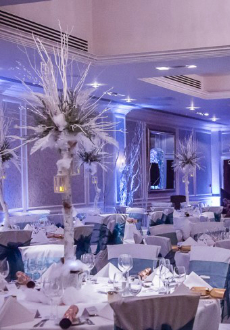 We used white twig, feathers icy jewels and frosted fern to create the magnificent tables and placed these on snowy tree stands with lanterns. High table centres work brilliantly in the Rockliffe suite as they make the most of the high ceilings and they create that visual impact as guests enter the room.
Food Festival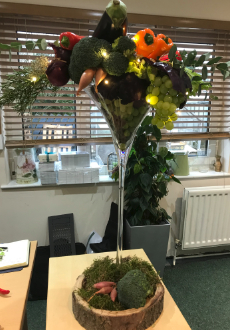 We love creating something a little different! So, when the events team at Rockliffe asked to create table arrangements out of humble vegetables for their food festival we couldn't wait to get started.
The process started with a couple of samples that we created for the team at Rockliffe. Together we then developed the concept into the finished pieces.
For the initial concept we used a range of veg including red and white onions, red and yellow peppers, aubergine, grapes, cabbage and rosemary (creating beautiful smell!).
We all agreed the concept was spot on however as the rest of the room was to be decorated in a pink and purple, we decided to tone down the variety of colours used to simple green and purple pallet.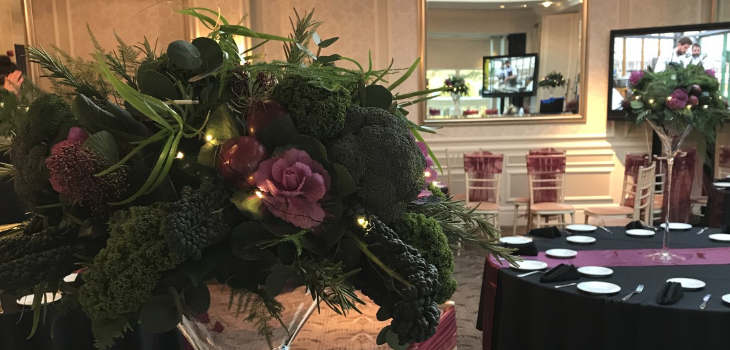 The finished table arrangements were designed with cabbage, red onions, broccoli, kale, green bell papers and a variety of greenery, including that beautiful smelling rosemary.
We used our martini vases to elevate the arrangements so guests can talk across the table during the event and again, the height created that 'wow' factor as guests walk into the event.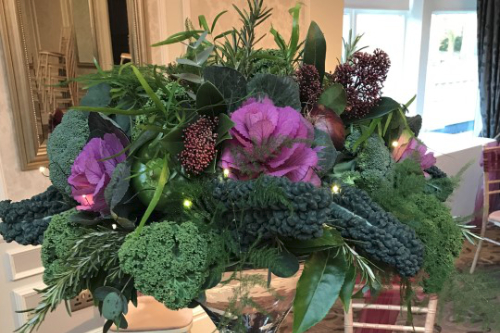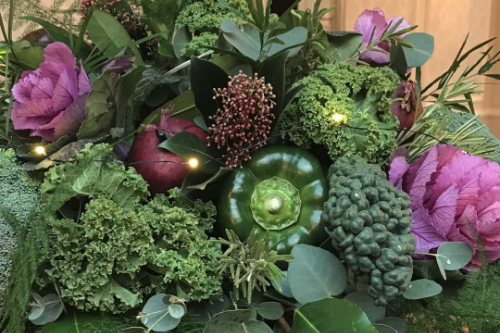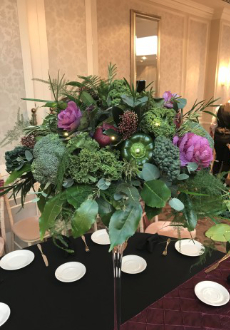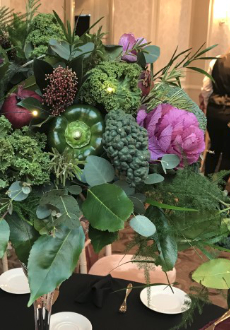 Colorplast
The Colourplast event took place during the summer months so the organisers were looking for fresh and bright arrangements to fit with their pink and black colour theme.

We chose high table centres with dark martini vases to mirror the black table cloth and placed the arrangement our team created on top to transform the room.
Each arrangement was designed with designed with Hydrangea, Gerbera, Spray Roses and Lisianthus in complimenting tones of pink.
Each vase stood on a mirror with three tealights which looked amazing once lit up.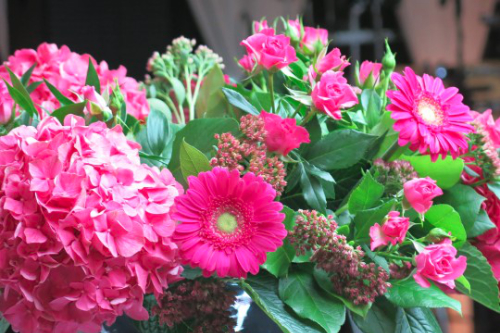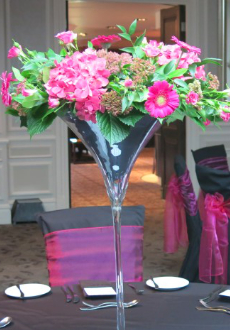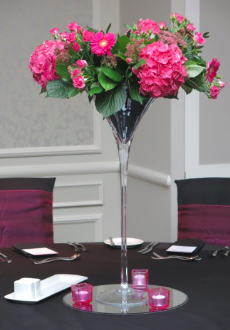 As the event was held in midsummer, we also focused on what we could place outside so guests could enjoy the atmosphere on the Rockliffe suite's balcony.
We decided to used our lanterns and candles. We placed sand in the bottom of each vase to increase stability. Thinking over practicalities like this for you is how we can reduce a little of the stress or organising an event.
We install and take everything away at a time that is convenient to you, while making sure every design is of the highest quality. If you've got an event, we've got the ideas. Flowers create that wow factor at events and don't have to be expensive.
If you would like a no obligation consolation with Sally to discuss through your event give us a ring on 01325 467154 or email us at [email protected]. We'd love to hear from you.