Your Guide to Lockdown Valentines Day
We're all going to have to be that bit more creative for Valentine's Day this year but with a spot of planning, we reckon it can be just as good, if not better, as previous years. We certainly won't take anything for granted for Valentine's Day 2021!
With no sign of being able to whisk your loved one away for a romantic weekend, we thought we'd pull together a few ideas to make the thinking process that much easier for you. We hope they give you some inspiration to create your own really special and romantic occasion.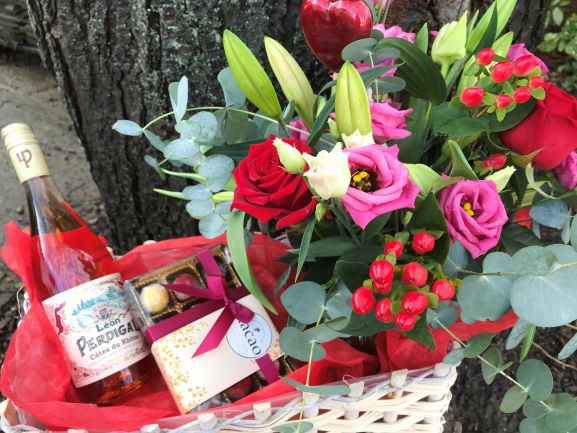 Why not order a special take away meal from a local restaurant or create your own home cooked, candle lit banquet and get dressed up
Look out for locally produced spirits, beers and wines as there are some fantastic micro distilleries, vineyards and breweries all over the country now.
Support your local gift shop, most of which have moved online now too. For us in Darlington, we're fortunate to have giftsatbliss.co.uk as well as many others.
A photo shoot voucher will be something to look forward to. Whether it's a studio shoot or one out at a location you love, you'll have something to treasure for years to come. We highly recommend Stan Seaton Photography in Darlington. We have had lots of fun with Stan and Jane in the past when working on flower photo shoots!
A voucher for a weekend away in the future will support a hospitality business and give you a treat to count down to. They say that 2021 will be the year of the staycation after all! We are lucky to have the fabulous Rockliffe Hall Hotel nearby who we work with as their regular florist.
Sharing or grazing boards are all the rage right now and lots of options are available for delivery.
One of our flower subscriptions is a wonderful present as, not only will your loved one receive flowers for Valentine's Day, but also the same day each month for the following 5 months. A boost of happiness delivered!
As a floristry business, we too need to think ahead to ensure we can navigate the Covid-19 challenges whilst continuing to offer the excellent service our customers have come to expect. With that in mind, we'd really encourage you (or your other half) to pop your flower order through as early as you can this year. We love it when customers give us the freedom to select the best seasonal flowers to create a bespoke bouquet and it can be a refreshing, contemporary approach vs the usual red roses.
Speaking of flowers, what about giving extra flowers this year so that you can enjoy them in more than one room in the house. Flowers are proven to lift mood and boost your level of 'happy hormones' such as Serotonin, so they really are the perfect gift!
Go homemade and make it personal. For example, you could fill a jar with notes of all the things you love about your partner.
Lots of virtual events are springing up – from cocktail masterclasses at home to virtual murder mysteries and virtual cheese & wine evenings. There's something to suit every taste!
Baking something sweet always goes down well. Why not make your loved one's favourite dessert or cake? Start the day with breakfast in bed and end it with a meal and your home baking!
But of course our favourite gift is the gift of flowers. We can safely deliver your love in the language of flowers. Go to the Valentine's Day selection on our website or give us a call and we will help you through your choice.
Make Valentine's Day special this year! Pre-order your Valentine's flowers here