Spring Into Season
It's time to fling open your windows…
Lighter days, warmer weather, chance to get outside after the winter hibernation, birds returning from their migration, bulbs bursting into bloom….so many reasons to love the Spring!
After months spent conserving energy, flowers bloom in the Spring, which is good for humans, because several studies have shown that looking at flowers can make you happy. A 2008 study of hospital patients found that having flowers in the room made people feel more positive and reduced their pain and anxiety Another study from Rutgers University found that when participants were presented with a bouquet of flowers, it resulted in what scientists call a 'true smile' 100 percent of the time. Seeing flowers had both "immediate and long-term effects" that resulted in elevated moods for days afterward, according to the researchers.
As we welcome the warmer weather, it's time to think about colourful spring flower displays of bright yellow, pastel pinks and many other colour combinations.
Tulips are one of the most beloved flowers the world around. Tulips have so many different personas from the elegant single varieties in every colour from white to almost black, the cheery parrot tulips and glorious vintage varieties. They seem to get more dramatic as they open up and up and did you know that tulips actually continue to grow in the vase?
One of the pleasures of spring is the fresh, heady scent from flowers of the season. The combination of pastel hyacinths and ranunculus with dainty spring paper whites, for example, is just irresistible.
Ranunculus is another special spring flower; it comes in so many different colours (from white and the palest pink through to bright red, yellow and orange) and varieties and really brings some beauty, fun and sometimes glamour to a spring bouquet.
The humble daffodil is often the first sign of spring in the garden. There are more than 50 species and 25,000 varieties of Narcissi, so plenty of choice, from tiny tete-a-tete dwarf daffodils, to the bright yellow cheery trumpet we are so used to seeing throughout country verges.
Fresh flowers will make any room come to life, whether they are large arrangements in a hallway creating a warm welcome to your guests or small arrangements with individual flower stems in bud vases or jam jars on a side table. Other ideas for different ways to display your flowers:
Coloured watering cans
Vintage milk bottles
Colourful vases
Metal container – great contrast for bright red tulips especially
Jugs
Earthenware pots
Vintage bottles
At Flowers by Nattrass we're big Spring flower fans and love creating beautiful bouquets to bring smiles to our customers. Whatever your favourite colour or flower combination is, do let us know, we'd be delighted to craft something truly special and unique for you.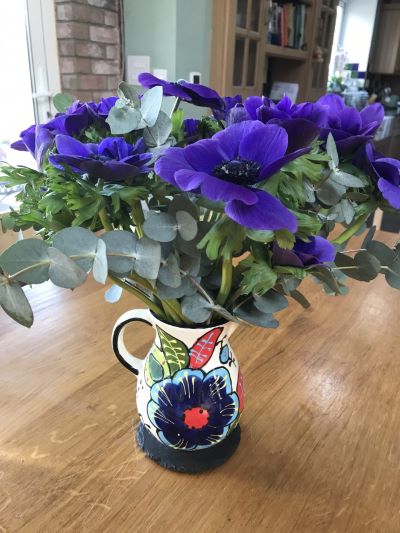 It's not long until Mother's Day (Sunday 14th March) so do look out for our posts on social media and our special range on our website, including some lovely add-ons for that extra special gift for Mum!