Valentines Day
Something to be celebrated?
If you ask people on the street what they think of Valentine's Day, you'll no doubt hear mixed views. Some feel it is a money-making scheme for the retailers, whilst the die-hard romantics will tell you that love should be celebrated all the time, especially on 14th February.
Perhaps there has never been a more appropriate time to embrace Valentine's Day than in a lockdown period when every simple pleasure is to be savoured.
Where did Valentine's Day even come from?
The most popular theory says that Emperor Claudius II didn't want Roman men to marry during wartime, but a fella called Bishop Valentine went against his wishes and performed secret weddings.
Why 14th February?
We have King Henry VII to thank for that: in 1537, he officially declared February 14 as the holiday of St. Valentine's Day – and it has stuck ever since.
Why does an 'X' symbolise a kiss?
People in medieval times who couldn't write their names signed in front of a witness with an 'X' which they then kissed to show their sincerity.
And red roses?
That'll be because the red rose was the favourite flower of Venus – the Roman goddess of love. The colour red's importance comes from the fact that it was once believed that the heart was the part of the body that the feeling of love came from.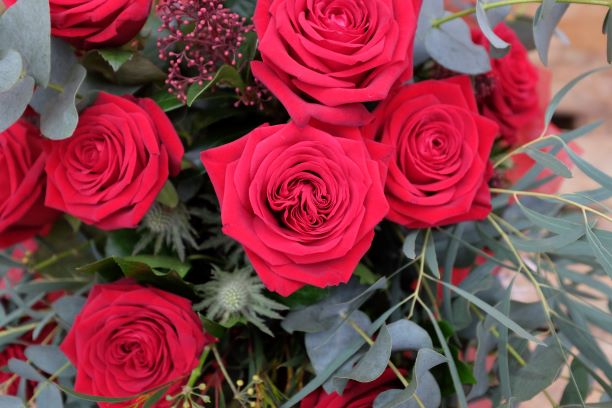 Approximately 50 million roses are received on Valentine's Day around the world! Whilst they're the traditional flower, things have moved on so much and the choice of Valentine's gift bouquets is endless. With Spring flowers now available, they make a beautiful, bright alternative – and offer great value too!
If your loved one has a favourite flower or colour preference, then do let us know and we will always do our best to come up with something to suit.
It's not just about flowers either. Chocolates are given on 14th February thanks to Richard Cadbury, who first gave chocolates to his beloved in a heart-shaped box in 1868. We have some gorgeous, handmade chocolates from local chocolaterie 'Kacao', which you can add to make your gift extra special! Other add-on options include champagne or prosecco and vases to display the flowers immediately.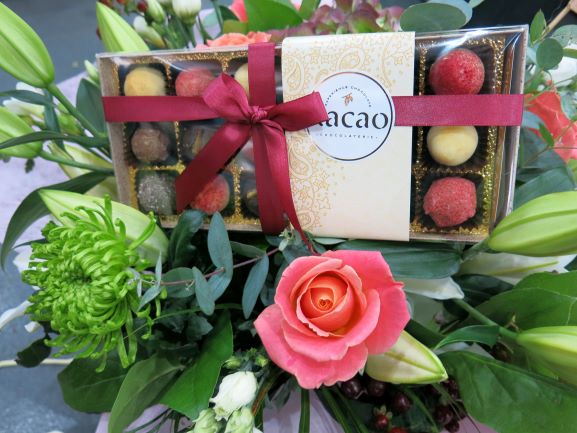 Valentine's is one of our busiest periods and we expect this year to be no different. You do need to order early this year though as it's not a normal year due to...you guessed it... the pandemic! Supplies may be affected; staff numbers are limited by physical space to work and we expect couriers to be extra busy racing around the country.
You can order here on our website at any time, call us during working hours or pop a message on any of our social media platforms if you have a query. We're here to help.
"There is only one happiness in life: to love and be loved."
Click here to view our Valentine's Range